Overview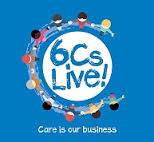 6Cs Live! Week of Action focussed on 'Helping people stay independent, maximising well-being and improving health outcomes' starts on Monday 28th October. As part of this week of action, you and your teams are invited to join and participate in a series of webinars. The webinars are a great opportunity to engage with experts and clinical teams sharing their experiences of improvement and delivering excellent care through the 6Cs. Join us in taking action, to share, learn and connect with colleagues from across the country. Please register for these events using the weblinks below and joining instructions will be sent to you the day before the event.
Making Every Contact Count with Joanne Bosanquet, Deputy Director of Nursing from Public Health England.
Wed 30 Oct - 12.30 - 1.30
Want to find out more about Making Every Contact Counts and what it means to PHE/DH? This session will outline how we are progressing with this work and let you know how we have been following up on the feedback we got at the Public Health nursing conference in June. We want to know how you see public health fitting in with your daily nursing role/duties and we want to find out what you need from us (at PHE and DH) to help you to make every contact count.
Out of hospital care with Wendy Nicholson, Professional Officer - Nursing, Department of Health.
Thurs 31 October 2.00 - 3.00
Caring in local communities is a key priority and a preferred choice for patients. This webinar will focus on the vital role and contribution of district nurses and general practice nurses; including their contribution to self-care and public health including health protection. To deliver care closer to home we need a skilled workforce, improved integration with social care and strong leadership to ensure we achieve health improvements and a positive patient and carer experience.
The health and wellbeing of school-aged children with Wendy Nicholson, Professional Officer – Nursing, Department of Health.
Fri 1 Nov 12.00 - 1.00
Supporting the health and wellbeing of children and young people is crucial.
School-aged children face a number of challenges and need support from a skilled public health workforce – both in school and community settings. School nursing teams provide evidenced based interventions and lead the delivery of the HCP (5-19).
Engaging with children and young people to ensure services meet local need is fundamental – are services visible confidential and accessible?
To register for any of these webinar please click on the 'Online Survey' link below